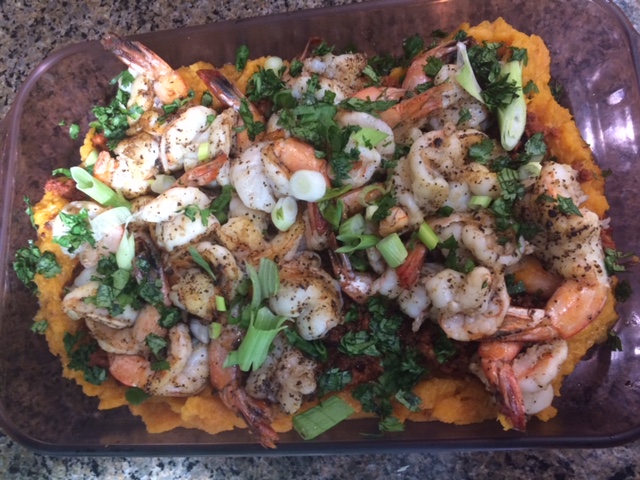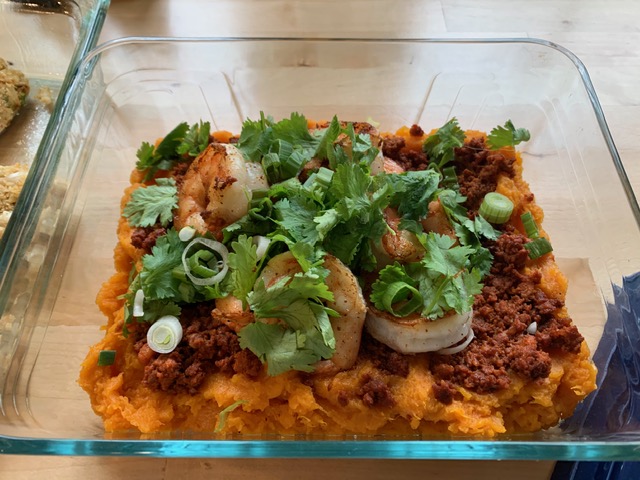 Butternut Squash Puree
1 medium – large – butternut squash, split in halve lengthwise (or ~5-6 cups raw, peeled and
cubed butternut squash).
½ tbsp olive or a neutral healthy oil
1 tsp Black Pepper
¼ tsp Salt
1 tsp Garlic Powder
Creole or Mexican Spice Blend (optional)
1 shallot, minced
3 cloves Fresh Garlic, minced
1 /2 -1 small chipotle chile in adobo, minced (more or less to taste – start with ~1/2 tsp and
increase as desired.)
1/8 -1/4 cup unsalted vegetable or chicken stock
Chorizo and Shrimp 6 oz Chorizo (Spanish sliced or chopped; OR, crumbly(Mexican
style) – your choice.)
24 Large Shrimp (U16-20 or larger) – uncooked, peeled and deveined,
Salt, pepper, ancho chile powder to taste
Thinly sliced green onions
Fresh cilantro
Fresh lime wedges
Make the butternut squash puree:
Preheat the oven to 400 degrees.
Line a baking sheet with parchment paper or foil.
Drizzle a very small amount of oil over the paper/foil and spread to
cover in a thin layer.
Rub surface of squash with a small amount of oil.
Season with salt, pepper, garlic powder and/or a bit of Creole or Mexican Seasoning Blend.
Place squash halves, cut side down, on foil.
Bake for ~30 – 40 minutes until tender.
If using cubed squash, place cubed squash into a large bowl, drizzle with a small amount of oil, season with salt,
pepper, and/or other seasoning.
Toss until evenly seasoned and coated.
Spread seasoned butternut squash onto baking sheet in a single, even layer.
Bake for 25-30 minutes, until fork tender and lightly golden brown.
While squash is baking, season shrimp with salt, pepper,
garlic, and a pinch ancho chile powder. Set aside.
Once the butternut is fully cooked, scoop the squash flesh out of the skin and transfer the hot squash to a blender or
food processor. (Or add the roasted cubes to the
blender/food processor)
In a small skillet, add a bit of olive oil or butter to the skillet.
Sauté the shallots and garlic until tender.
Add the shallots and garlic to the blender with the squash.
Add the chopped chipotle and the small vegetable or chicken stock in increments.
Just add enough to create a smooth, thick puree.
Pulse or blend until smooth and creamy.
Taste and adjust seasonings.
Cook the Chorizo:
You may use Spanish style chorizo (sliced or coarsely chopped) or Mexican "crumbly" style chorizo for this dish.
Add the chorizo to a warm pan – brown and cook through.
Remove chorizo to a bowl; cover and keep warm.
Add the shrimp to the same pan over medium heat.
Cook for 3-4
minutes, then flip and cook for another 2-3 minutes, until the shrimp is no longer translucent.
To serve: place a portion of butternut squash puree on a plate. Top with chorizo and then the shrimp.
Garnish with fresh cilantro and thinly sliced scallions. Serve with lime
wedges.
Note: Recipes are and remain the property of Comfort N Spice. Please do NOT reproduce or distribute without
permission. For permission to reproduce this recipe, click
here:

[email protected]

.