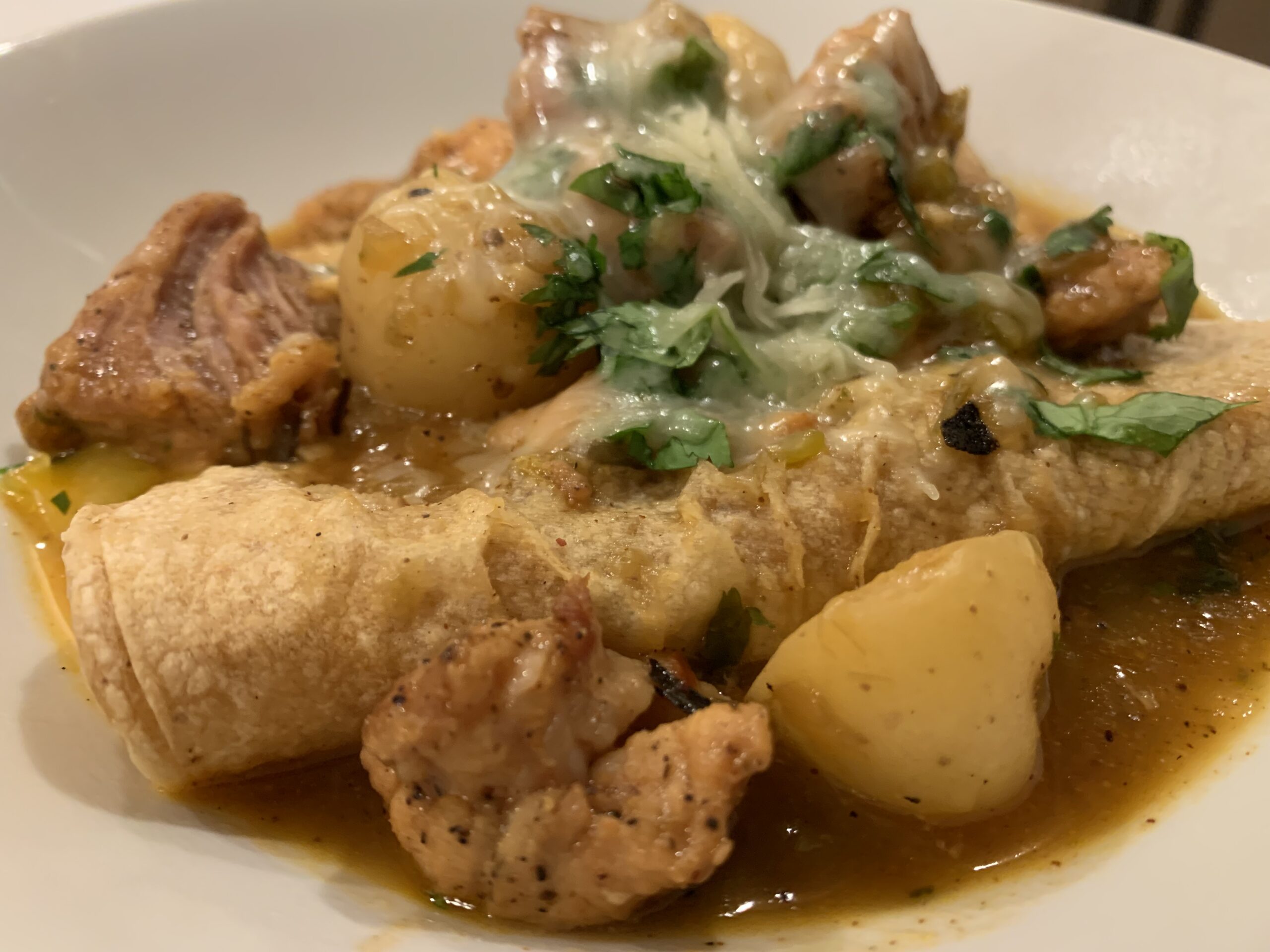 1 tablespoon olive oil or a neutral healthy oil of your choice
1.5-2 lbs of boneless skinless chicken breast or thighs OR pork shoulder/ boneless country ribs
OR beef chuck/stew meat, cut into 1.5 -2 inch pieces (Omit if making vegetarian – increase
potatoes and add corn , hominy, and/or black or pinto beans if desired)
2 medium onions, diced
3-6 cloves garlic (per your taste) minced
4 cups homemade stock (if using purchased stock, use unsalted and season to taste or per your diet.
Use Vegetable, chicken, or beef stock per your selected protein.)
2 teaspoon salt or seasoning blend of your choice.
2 teaspoon freshly ground black pepper
2 teaspoons ancho chile powder
1 tsp cumin
1 tsp coriander
1tsp smoked paprika
1 large Russet potato, peeled and cut into small chunks or small boiling or fingerling potatoes, cut in half if large.
~ 8 oz diced, roasted
Hatch green
chiles (more or less to taste)*
4 medium tomatillos, roasted, skinned and diced.
Fresh cilantro, for serving
Fresh lime wedges,  optional, for serving
Season your meat with salt and pepper or the seasoning blend of your choice.
In a heavy, medium sized dutch over or soup pot, heat the oil over medium-high heat.
Sear the seasoned meat on all sided.
Add the onion to the pot, and cook while stirring
occasionally until softened and starting to turn golden brown on the edges, about 3 minutes.
Next, stir in the minced garlic and cook for 30 seconds.
Add the salt, pepper, ancho chile powder, cumin, coriander, and smoked paprika and stir.
Add the stock.
Cover and simmer on low for 45 minutes or until the meat is tender.
(Vegetarian version, skip to next step).
Add diced potatoes, green chiles, and tomatillos to the pot.
Bring the mixture to a simmer.
Cover again simmer over low heat until the potatoes are cooked, about 15 minutes.
For vegetarian version: at this point, also add the corn and/or beans and let everything cook on a gentle simmer for about 5 more minutes.
If a thicker stew is desired, add a cornstarch slurry (equal parts cornstarch and cold water or stock, mixed) to the boiling stew and let it simmer for a few minutes.
Serve with toasted tortillas, Mock Tamales, or rice and plenty of lime wedges and freshly chopped cilantro. I like to
add fresh, chopped cilantro to the stew right before serving.
Top with a sprinkle of your favorite cheese if desired.
Note: Recipes are and remain the property of Comfort N Spice. Please do NOT reproduce or distribute without permission. For permission to reproduce this recipe, click
here: [email protected]
This recipe was adapted from:
https://www.foodnetwork.com/recipes/green-chile-stewrecipe2-
2013488
Notes:
The fresh Hatch chiles should already be roasted, cleaned, peeled and diced.
You may substitute Anaheim or Poblano chiles if you prefer less spice or if Hatch Chiles are not available.
If you enjoy spicy food but do not have access to Hatch Chiles, add a roasted peeled, chopped, seeded jalapeño or serrano chile with the other chiles.
Or, simply use a pinch of rushed red pepper.
If you're not using fresh chiles, use two 4-ounce cans of fireroasted diced green chiles or 8 oz canned whole green chiles (dice these before using).
Note: Hatch chiles vary in heat or level of spiciness. Most are medium heat – in my opinion!
If your tomatillos are a bit acidic, add a pinch of baking soda or sugar to the stew.