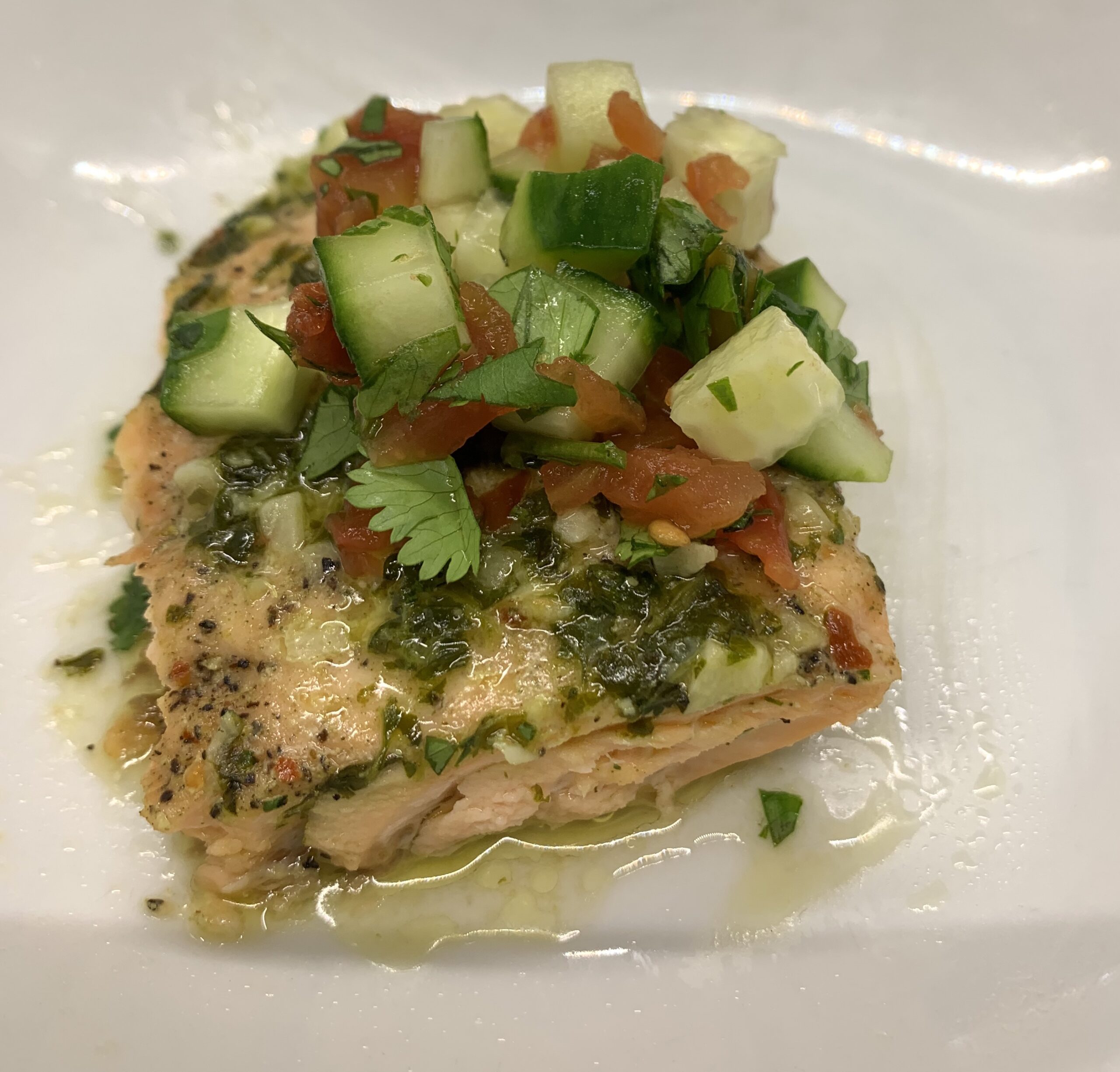 Salsa
1 medium cucumber
1 Roma tomato
1/2 small Red Onion
1/2 small jalapeño chile pepper — minced ( use 1T green or poblano
pepper for mild)
1 medium lemon — juiced (2 lemons juiced in total for this recipe. See below.)
1 pinch cumin
1 1/2 tablespoons vegetable oil
1/4 bunch cilantro leaves, whole — chopped, divided use (~1 TB for
salsa, 2T for butter – see below)
Lemon Cilantro Butter
1/4 stick unsalted butter — softened
1 medium lemon, juiced
2 tablespoons cilantro — finely chopped
Salt and pepper to taste
Salmon
1/4 teaspoon salt — or to taste
1/2 teaspoon freshly ground black pepper — or to taste
Creole seasoning — optional – to taste
4 cloves garlic — minced
1 tablespoon olive oil
4 7-8 oz salmon fillets – skinless preferred, or flaky whitefish of your
choice
Prepare Salsa:
Peel cucumbers. Dice to 1/4 inch dice and place in a nonreactive bowl.
Dice tomatoes to 1/4 as well; add to cucumber.
Peel onion and dice to 1/4 inch; combine with
cucumber and tomato.
Add chilies, juice of ONE lemon, vegetable oil, 1 TB
chopped cilantro, salt and pepper to taste. Add a pinch of cumin if desired.
Mix well and refrigerate.
 
Prepare Lemon Cilantro Butter:
In a small bowl, mix softened butter, juice of remaining
lemon, 3 TB chopped cilantro, and salt and pepper to taste.
Mix well and set aside.
Prepare the Salmon:
Season salmon with salt, pepper, Creole spice (optional).
Mix olive oil and minced garlic together.
Rub on salmon
filets. Gently massage the flavors in to the salmon Cover and marinate in refrigerator for 2 hours (overnight if time
allows).
Place salmon on foil or an oiled broiler pan.
Broil salmon on pan ~2-4 inches from heat source for about 7minutes.
Baste salmon with Lemon Cilantro Butter and cook an additional 2 minutes.
Top each fillet with a dollop of salsa and sprig of fresh cilantro. Enjoy!
Pan searing/oven roasting or grilling also works with this
recipe.
Adapted from Whole Foods recipe.
Note: Recipes are and remain the property of Comfort N
Spice. Please do NOT reproduce or distribute without
permission. For permission to reproduce this recipe, click
here:

[email protected]

.
NOTES
This recipe work well with other proteins.